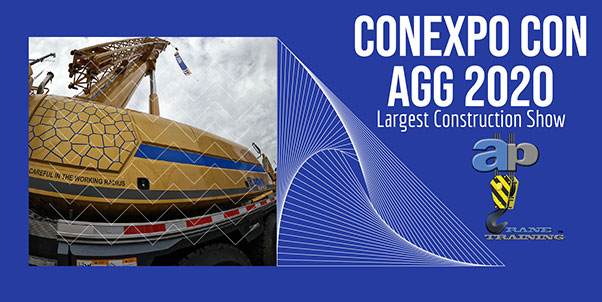 CONEXPO CON AGG 2020 helps everyone involved in the construction industry. The CONEXPO presents everything from mining, safety tools, and much more than you can expect. You can find a lot of different vendors with great deals or else something worth investing in to help grow your business.
The CONEXPO CON AGG 2020 show is the biggest construction trade show with the most extensive providers in equipment when it comes to asphalt, aggregates, concrete, earthmoving, lifting, mining, utilities, and more in North America.
Held every three years in Las Vegas, this large event highlights the most advanced construction equipment with improvements and the most innovative technology applications in every perspective of construction. CONEXPO CON AGG 2020 was a wonderful event right before COVID rolled in. COVID caused the event to become a day short due to the widespread.
CONEXPO Crane Video 2020
Here is a CONEXPO crane video in 2020 of all types of mobile cranes that were spotted during the largest construction trade show in 2020.
Big names recognized in the crane industry advertising their most advanced tech, device, and equipment. Finding new cranes to outrigger pads plus extra upgrades.
So many food vendors, generous giveaways, and a lot of cranes, overall a fun experience. There was an education area with useful resources for software developers, business owners, crane operators, and contractors to obtain cutting-edge information.
Courses Held At CONEXPO 2020
Some of the assembly courses for cranes, rigging, and aerial lifts. And more:
How to crane inspect?
Managing crane accidents?
How to manage crane ground bearing pressures?
Best training for inspecting and rigging load.
What are qualifications in the crane industry?
How do accidents happen?
How to delay/prevent rope twist.
2,800 exhibits
2,500,000 sq ft
150 education courses
Largest Construction Trade Show in 2020
Every Three years CONEXPO-CON/AGG 2020 brings all the latest heavy equipment and innovations that involve a state of the art technology as we go into the future.
Crane Training and Certification Resources
Looking for crane training and certification resources? Fill out our contact form for mobile crane training and questions, also get a free quote. We provide different locations around the United States. Call us today at (888) 501-1355